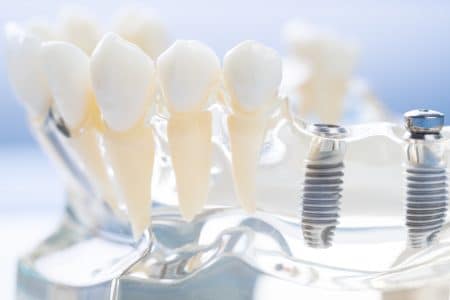 While prosthetics like crown-secured bridges and removable dentures address missing teeth, they don't slow the rate of jawbone tissue loss, which occurs as a result of missing teeth. However, dental implants have been known to stimulate the growth of jawbone tissues, preventing negative changes to your facial structure as a result of tooth loss. In today's blog, your Overland Park, KS, dentist explains how dental implants save your smile!
The Impact of Lost Teeth
What happens to your smile and facial structure when you lose a tooth? The body often responds to the loss of a tooth root by suspending the flow of calcium and phosphorus to the jawbone. Without these nutrients, the bone tissue begins to break down, causing a loss of mass and density. Over time, this loss of mass and density means an increased risk of further tooth loss and eventually, an aged appearance, with sunken cheeks, ptotic chins, and other signs of aging. However, with dental implants, we have a chance to halt this process and preserve your youthful appearance, and prevent additional lost teeth.
Implant Dentistry and Osseointegration
A dental implant is a small, screw-like device that is made from titanium, a biocompatible material. We surgically insert them into the jawbone. The body accepts it as a new tooth root and stimulates the growth of the bone tissue, preventing further loss of mass and density, and preserving facial structure. Not only does this help protect your appearance, but it also prevents further tooth loss and allows your new tooth to last for decades to come, possibly even a lifetime. In comparison, bridges and removable dentures need replacement about once every 5 to 10 years, as the jaw ridge will change shape due to lost mass and density.
Restoring Your New Tooth
After osseointegration takes place, we move on to address the visible portion of your new tooth. For an individual dental implant, we will attach an abutment that holds a custom-made dental crown in place. If you have multiple implants, the we will attach a bridge or denture. These options will be created using lifelike materials to ensure a natural-looking replacement for missing teeth, and also a durable and dependable chewing surface, so you can enjoy your favorite meals again! If you have any questions about replacing missing teeth with implant dentistry, or about preventing tooth loss, then please contact our team today.
Do You Have Questions About Implant Dentistry?
Treatment with implant dentistry not only addresses lost teeth, but helps preserve your overall facial structure too with a lifelike and long-lasting solution for missing teeth. To learn more about treating one or more of your missing teeth, then schedule your consultation by calling Family First Dental in Overland Park, KS, today at 913-381-2600.