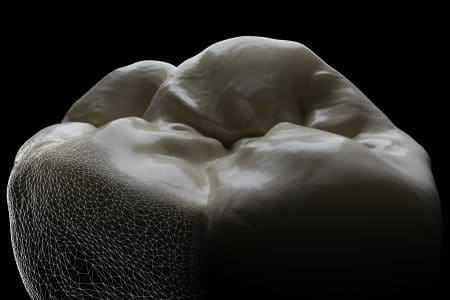 When you suffer a serious injury to your smile, or if you develop painful aches due to a cavity or infection, then you need to see us for emergency treatment. Often, we return the tooth to optimal health and function with a custom-made dental crown. How does your Overland Park, KS, dentist create a crown, and what makes one look natural?
Full Crowns
A full crown covers the entire visible portion of your tooth, everything above the gum line. For that reason, they often address very serious cosmetic and restorative issues. For example, if you have a chipped, cracked, or broken tooth, then a dental emergency could be addressed with a restoration. We also treat the causes of discomfort, such as an advanced dental cavity or an infection or abscess. If you have worn-down a tooth as a result or bruxism, also known as chronic teeth grinding, we can restore this lost structure and restore balance to your bite. For people with missing teeth, we can secure a bridge or restore a single tooth dental implant!
Partial Inlays and Onlays
Partial crowns, also known as inlays and onlays, address specific areas of the tooth that need more than bonding or filling, but may not require a full crown yet. The inlay fits in between the cusps on top of the teeth, and an onlay fits over the cusps. Both are made from ceramic, which can be shaded to look natural and blend with the color of the tooth. We create partial and full restorations based on impressions we take of the prepared tooth. Each one is always custom-made!
Protecting Your Smile From Home
To help prevent many of the issues that would require our lifelike smile repair, you should always take time to brush your teeth when you wake up and again before bed for about two minutes. You also need to floss every night before bed as well, removing the bits of food caught between the teeth that could feed harmful bacteria and increase the risk of cavities and infections. You should also cut back on sodas and sugary foods, and make time to see us every six months for a checkup and cleaning. If you have any questions about how we repair smiles, or if you think you have a dental emergency that needs attention, then contact our team today.
Do You Have Questions About Restorations?
Our team is ready to offer lifelike and long-lasting solutions for minor or severe damage. To learn more about repairing damaged smiles and improving the health and beauty of your teeth, then schedule your consultation by calling Family First Dental in Overland Park, KS, today at 913-381-2600.