Dr. Cook's experience treating all types of oral health concerns allows him to provide a high level of exceptional dental care, from preventive measures to gum disease management and much more. To complement that ability, we invest in advanced technology to provide more accurate diagnoses, safer procedures, and more lifelike, custom restorations!
Cone Beam CT (CBCT) Scanner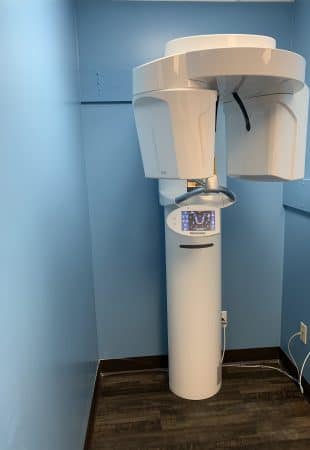 Our new state-of-the-art Cone Beam CT (CBCT) scanner allows us to see, diagnose, and treat our patients much more effectively than with other radiographs alone. One scan produces a 3D image of all the teeth, as well as, the whole jaw, TMJ joint, sinus, and airway. With this technology we are able to see every tooth at multiple angles to check for decay, infection, stress fractures, and much more within seconds. We can assess the temporomandibular joint (TMJ) for trauma and can compare with follow up scans to determine the health of the joint. We can view the airway from different views to assess width and screen for things such as sleep apnea. The CBCT scanner is becoming the standard of care in treating patients that require implants. The 3D technology helps us determine the exact place in the bone that implants should be placed relative to nerves and the sinus and makes placing the implants quick and precise. The CBCT can also allow us to screen for certain cancers, tumors, and cysts that may be present and we can send these scans to physicians so our patients do not have to have multiple scans/radiographs taken.
Digital X-Rays
X-rays are an important part of comprehensive oral examinations, and digital X-rays produce clearer, more detailed images in a safer, more environmentally friendly manner. Instead of waiting while your X-ray photographs are developed, our digital system projects the images instantly onto a chairside monitor that you and Dr. Cook can view together.
Intraoral Cameras
Dr. Cook can see a lot during your visual checkup, but some areas of your oral cavity can be difficult to see with the eye alone. For a more accurate examination, Dr. Cook may employ an intraoral camera. The digital camera is small enough to fit on a thin wand, which Dr. Cook uses to maneuver the tiny camera inside your mouth. As he does so, the camera projects clear, digital images of your teeth and oral tissues onto a chairside monitor, giving you and Dr. Cook a more comprehensive view.
Laser Dentistry
Sometimes, soft-tissue procedures such as gum contouring require minor oral surgery. With the use of a specially calibrated diode laser, Dr. Cook can perform such procedures in a safer, more precise, and more comfortable manner than traditional surgery. Laser dentistry produces less collateral trauma to your oral tissues, which means quicker healing, and less risk of infection.
CEREC Digital Impressions
CEREC technology provides Dr. Cook and our patients the advantages of digital dental mapping and imaging to create precise, highly lifelike cosmetic and restorative treatments, including Invisalign®. Digital impressions don't create the mess and discomfort that traditional dental molds create; because there is no physical mold, Dr. Cook can make slight adjustments to your restoration's design as needed quickly and effectively to ensure optimal results.
Advanced, Higher Quality Dental Care
Our combination of experience and advanced technology allows us to consistently provide a higher quality of care to all of our patients. To schedule a consultation or examination, call Family First Dental in Overland Park, KS, today at 913-381-2600.