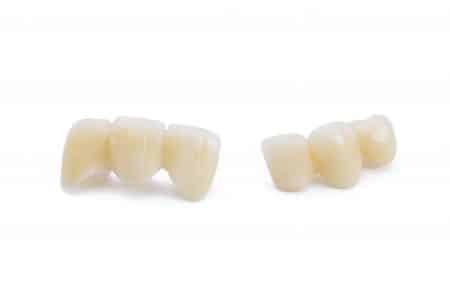 When we lose one or more of our natural teeth, the health and function of our smile suffers. Not to mention the negative impacts on our appearance! However, your Overland Park, KS, dentist knows how to address missing teeth by creating and placing a custom bridge with lifelike and durable materials. When should you consider a bridge?
Creating Your Dental Bridge with CEREC Technology
A bridge replaces between one and three missing teeth. The prosthetic contains the new teeth, known as pontics, and has crowns attached to each end. To ensure a lifelike appearance, we create them with the CEREC CAD/CAM system. We first remove structure from the natural teeth on either side of the gap on your smile. Next, we take detailed digital images of this area, and use the images to craft a 3D model. After we design the prosthetic, we upload the information into the CEREC onsite milling machine, which crafts them from ceramic. A durable material that absorbs daily bite forces, this provides a secure replacement option. Ceramic is also translucent like tooth enamel and can be shaded to blend with the rest of your smile.
Placing and Maintaining Your Prosthetic
After completing the prosthetic, we will attach the crown portions to your natural teeth, forming a bridge to secure the pontics firmly in place. You will be able to eat your favorite foods and enjoy smiling with confidence. However, the natural teeth the crowns are attached to will still be susceptible to cavities and gum disese, so practicing good oral hygiene is a must. You should brush your teeth each morning and again in the evening for two minutes each session. Be sure to floss each night too. Make time to see us for checkups and cleanings every six months too, so we can monitor your smile and remove harmful plaque buildup.
Don't Ignore Your Tooth Loss
Remember, even minor tooth loss could be problematic for your smile. For example, surrounding teeth could drift from position and lead to misalignment. Poor alignment could increase the risk of tooth decay and gum disease. The missing teeth could also place pressure on the jaw joints, increasing the risk of TMJ disorder and bruxism (teeth grinding). By addressing your tooth loss, we improve the health and beauty of your smile, often in as little as one to two visits. If you have any questions about addressing your tooth loss, then contact our team today.
Do You Have Questions About Prosthetic Dentistry?
We want to restore function, health, and beauty to your smile by replacing your missing teeth with a custom-made prosthetic. To learn more about addressing minor or severe tooth loss, then schedule your consultation by calling Family First Dental in Overland Park, KS, today at 913-381-2600.