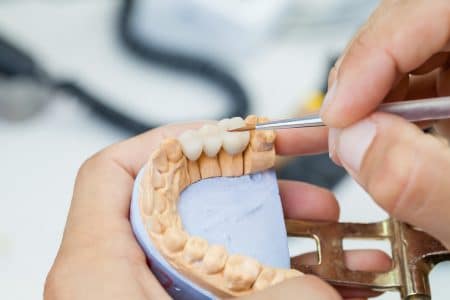 Losing a tooth means an exposed gap in your smile, and eventually, major complications for your smile's function and alignment. However, we can help prevent these complications by replacing your missing teeth. In today's blog, your Overland Park, KS, dentist will explain how we provide a durable and lifelike solution for minor tooth loss with a dental bridge.
The Causes of Tooth Loss
What causes an adult to begin losing natural teeth? Obviously, an injury could mean a tooth is knocked out completely. However, poor oral hygiene could also mean a cavity or infection, which in some cases is so severe extraction is needed to prevent the spread of infection. But the number one cause is actually gum disease. The advanced stage of the disease, commonly referred to a periodontitis, could actually severe the tissues that connect your teeth and gums, causing missing teeth. Once you lose a tooth, the rise of misalignment, TMJ disorder and bruxism, and further tooth loss, is more likely without a prosthetic placement.
Creating a Crown-Secured Bridge
A dental bridge addresses between one and three missing teeth in a row. The prosthetic itself contains your new teeth, which we refer to a pontics, and crowns attached to each end of the pontics. The crowns will be attached to abutment teeth on each side of the gap. To ensure a comfortable fit and a lifelike appearance, we remove structure for the abutment teeth and take detailed impressions and measurements, which we use in the design process. We craft the pontics and crowns from lifelike and durable materials, such as ceramic. The completed prosthetic can last for between 10 and 15 years on average, and will require replacement as the shape of the jaw ridge changes with time.
A Dental Implant Prosthetic
While most bridges are secured with crowns, we also have an option that saves abutment tooth structure and could last decades, maybe even a lifetime. Instead of attaching crowns to natural teeth, we attach them to one or more dental implants that have been inserted into the jaw. These act as new roots, stimulating the growth of jawbone tissue to prevent ridge shape changes over time. With routine care at home and in our office, you can enjoy a long-lasting prosthetic, and protect your remaining natural teeth from underlying health issues like periodontal disease. If you have any questions about replacing missing teeth, or preserving your natural ones, then contact our team today.
Do You Have Questions About Replacing Missing Teeth?
Our team would like to help you enjoy a full and beautiful smile again with a custom-made prosthetic. To learn more about addressing your tooth loss, then schedule your consultation by calling Family First Dental in Overland Park, KS, today at 913-381-2600.