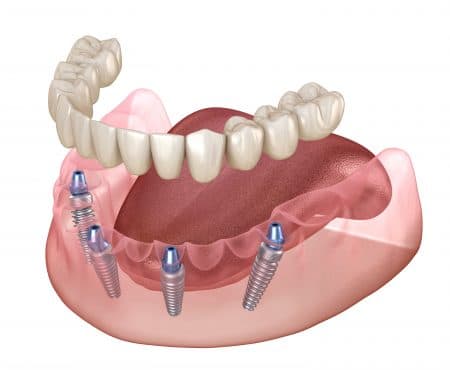 Often, people may find they don't qualify for implant dentures due to loss of jawbone density, which means their smiles cannot support the six to eight dental implants per arch necessary to secure a new denture. However! Your Overland Park, KS, dentist has another option. All-On-4® uses only four implant posts, providing secure prosthetics for people who have lost jawbone mass and density due to tooth loss.
Losing Your Youthful Features
When we lose multiple teeth, the body responds by suspending the flow of calcium and phosphorus to the jawbone around the missing teeth. Without these essential doses of calcium and phosphorus, the bone tissue begins to lose density. Without mass and density, the tissue breaks down and leads to further tooth loss, as well as negative changes to facial structure, causing sunken cheeks, ptotic chins, and other severe signs of aging. However! Dental implants, which are made from biocompatible titanium, bond with the jawbone like tooth roots and stimulate the growth of jawbone tissue, preserving facial structure and preventing an aged appearance.
Creating a New Prosthetic
When you come to us with the majority of your teeth missing, or all of them, we will design a prosthetic that fits comfortably and looks natural. We take detailed impressions and images of your smile, using the information to design a prosthetic. The base is made from acrylic, which looks like gum tissue, and the teeth will be made from materials like ceramic, which absorbs bite forces and also mimics the translucence and shade of natural tooth enamel. The prosthetic is then attached to the dental implant already placed into the smile, providing a fixed denture.
The Benefits of All-On-4®
First, if you have already lost some jawbone mass and density due to tooth loss, then All-On-4® dental implants could be placed without the need for jawbone grafting or ridge augmentation. We insert four unique implant posts into each arch, and then attach the denture to them. The denture is then fixed in place, never slipping and never requiring removal for soaking or cleaning. They last for decades to come, unlike removable alternatives, which need replacement every 5 to 10 years as the ridge shape changes. If you have any questions about the process, or about addressing your tooth loss, then please contact our team today. We want to help you obtain a full and beautiful smile, so you can eat your favorite foods again and smile with confidence!
Do You Have Questions About Implant Dentures?
Our team wants to help safeguard your health, and your overall facial structure, with long-lasting and dependable implant prosthetics. To learn more about restoring health, function, and beauty to your smile, then schedule your consultation by calling Family First Dental in Overland Park, KS, today at 913-381-2600.