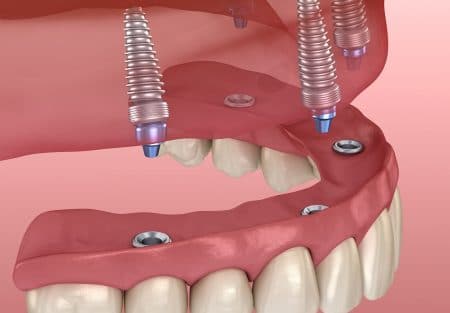 Losing most or all of the teeth on your dental ridge is a big deal. It doesn't just affect your smile's appearance, but also almost every other aspect of your oral health and bite function. For most people who experience it, the best way to address the concerns of significant tooth loss is to replace the lost teeth with a series of dental implant posts and an appropriate restoration. That often means placing a full denture on the dental ridge to completely rebuild it, and with All-on-4® implant dentures, we can help make that possible for a greater number of patients.
Why dental implants work best for lost teeth
Dental implants are the only prosthetic dental solution designed to replace the lost roots of your teeth, which makes them the only way to address the issues that arise from missing teeth roots. In cases of severe tooth loss and multiple missing teeth roots, that can include diminishing mass and density in your jawbone structure. One of the most important reasons why dental implants are often preferable for replacing lost teeth is because they can help mitigate this impact and the resulting effects on your oral health and quality of life.
When your tooth loss is extensive
When your tooth loss is extensive, the impacts on your oral health are more severe, which makes the benefits of dental implants even more important. However, because of the severity of your tooth loss, your jawbone may have already lost some of its mass and density, and placing several dental implant posts in it might be more challenging. To make restoring your smile more convenient and effective, we may recommend an All-on-4® implant denture, which is a complete denture that's supported on only four strategically placed dental implant posts.
The advantages of All-on-4® implant dentures
With an All-on-4® implant denture, we can help you replace all of the missing teeth on your dental ridge and benefit from dental implants in a more conservative manner. The innovative way in which All-on-4 implants support your denture helps you avoid the need for more dental implant posts, and therefore, the need for more extensive implant surgery. It also helps ensure enhanced comfort and stability for your denture to improve your smile, bite function, and oral health with optimal results.
Learn more about All-on-4®
With All-on-4® implant dentures, we can help you rebuild your smile with the comprehensive benefits of dental implants, and with more conservative treatment than you might expect. To learn more, schedule your consultation by calling Family First Dental in Overland Park, KS, today at 913-381-2600.