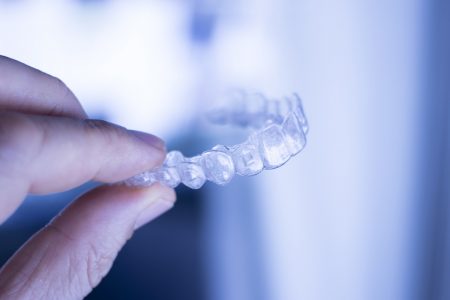 Many older teen and adult patients with crooked teeth weigh their desire for a straighter smile with the considerations that come with wearing orthodontic braces. The brackets and wires that are bonded to their teeth can dramatically impact their smile's appearance, as well as make everyday tasks like eating and practicing dental hygiene more challenging. Fortunately, patients in Overland Park, KS, have a more discreet and convenient alternative in the form of Invisalign® clear aligners, which helps them achieve the straighter smiles they deserve without the hassle.
Retaining your confidence
One of the most common concerns for patients who've never worn braces is how the brackets and wires will make their smiles look. The orthodontic appliances can be highly noticeable, and therefore, have an impact on your overall confidence. By contrast, Invisalign® clear aligners are made from virtually invisible acrylic that remains undetectable when placed over your teeth. This helps you retain your smile's natural appearance throughout the course of your treatment.
Less strain on your schedule
When you wear orthodontic braces, your treatment includes routine visits to your dentist's or orthodontist's office in order to regularly tighten the arch wires. Because Invisalign® relies on temporary aligners instead of brackets and wires, your routine visits will not need to be as frequent. This means you can complete your treatment without taking as much time out of your schedule from school or work to ensure its success.
Greater comfort and convenience
Improved comfort and convenient are also natural benefits that stem from using clear aligners to straighten your teeth instead of traditional braces. For example, you can temporarily remove your aligners when you eat each meal to avoid food particles becoming stuck in hard-to-reach areas. You can also remove them before brushing and flossing your teeth to ensure that you remove every trace of food debris, oral bacteria, and plaque.
Find out if Invisalign® is right for you
With Invisalign® clear aligners, straightening your smile doesn't have to cost you your confidence in your smile's appearance or your convenience in performing daily tasks. To learn more, or to schedule your consultation, call Family First Dental in Overland Park, KS, today at 913-381-2600.