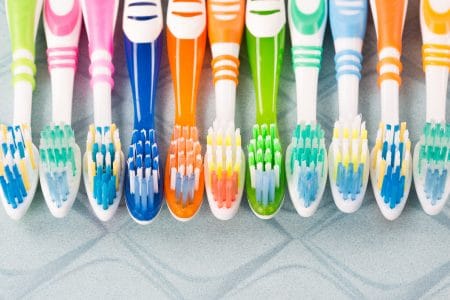 If you're using the wrong type of brush, a brush that's too worn out, etc., then no matter how much effort you put into your dental hygiene, you're not going to see the results you want. Of course, this can become extremely frustrating, particularly if you end up seeing problems like cavities when you really have been putting in the time that it takes to care for your smile. Not to worry. Our Overland Park, KS team can easily help you check in on the toothbrush you've been using to find out if you're checking off all the boxes or if, perhaps, you need to make some little changes for big oral health improvements.
Consider The Bristle Firmness (Always)
Our team wants to ensure you know that the bristles on your brush are extremely important to your dental hygiene experience. If you choose bristles that are hard or medium, you're going to end up damaging your teeth and possibly your gums, especially if you use it long-term. This is just too hard. Your dental tissue and gingival tissue require soft, gentle care for optimal cleansing without any type of irritation or damage. Only select soft bristles.
Ask Yourself If It Fits
Don't really want to end up with gingivitis? Well then. You are going to want a brush that fits in your mouth, so you can effectively cleanse every portion of your teeth and along your gumline. Get a brush that's way too large and you'll have trouble with this.
Check Packaging: Do You See The ADA Label?
Read the label of your toothbrush (in fact, do this for all dental hygiene products). You're looking for the American Dental Association's label. It will say something like ADA Seal of Acceptance. This means the item has been tested. In fact, it's gone through a ton of testing, which tells you: It will work!
Make A Note When You Begin Using It
If we talk with you about toothbrushes during your dental checkup, one thing we will always bring up is whether you're using the same brush for too great a period of time. Remember, each brush offers excellent care for about three to four months max!
Let Us Help You Make Dental Hygiene Even Better
See our team soon, so we can walk you through your home care to ensure you're right on track with your choices. To learn more about the kind of improvements you can enjoy, or to schedule an examination, call Family First Dental in Overland Park, KS, today at 913-381-2600.