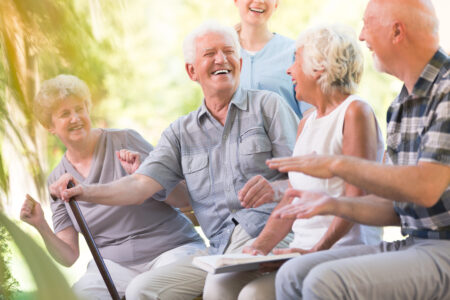 For people who are looking for a full replacement of their teeth, they may have some negative opinions of dentures. While their natural smile is failing, they do not want to deal with all of the hassle. And it signifies an age, so patients will put off their replacement, struggling with function and appearance.
But through the use of implant posts, a dental revolution is occurring. All-On-4® dentures use the structure that comes with titanium posts to hold a replacement prosthetic. Gone are the days of messy adhesives! These connect securely rather than relying on a glue or a tape. Today, your Overland Park, KS dentist breaks down some of the benefits that come with implant-supported dentures!
A Stable Replacement
One of the hardest hurdles to overcome in changing from a natural smile to a replacement is feeling that you are losing stability. Rather than relying on the connection that your jaw bone provides, you are attaching this prosthetic to the surface of the gums. For many reasons, this might not stay connected very well, or it might move. And it feels different than your biological teeth!
Instead, a titanium post may provide a much better solution for you. This metal bonds with our body through a unique process known as osseointegration. Special properties of this material do not provoke an immune response from our body. In fact, we begin to protect it like our own matter, creating a sturdy base from which any sort of prosthetic can attach.
Designing A New Smile
This procedure is known as All-On-4® because most often, four strategically placed posts are strong enough to comfortably hold a full set of teeth. This approach has a great benefit for the bone of your jaw. When we do not use our biological material, such as when we have lost dental matter, our body starts to reabsorb the tissue. This means that with traditional dentures, you may lose strength in your mouth. This can create significant cosmetic concerns. By placing these posts, our body continues to thrive!
There are a few benefits in this practice that can be noted. Firstly, limiting the amount of surgery necessary to create a stable foundation is great at maximizing the amount of your natural bone material in your jaw. Without teeth, we are prone to reabsorb material such as this back into the body in order to preserve other healthy areas.
Also, it can be a more affordable solution for people in need of replacement, while giving a connection strong enough to bite anything your originals could handle. It also means possibly keeping the mount of bone grafting necessary to a minimum, also limiting the trauma to your face.
Call Us For More Information!
Contact Family First Dental in Overland Park, KS by calling 913-381-2600 to schedule your next appointment with our team and discuss how we can plan to protect your teeth as best as possible!