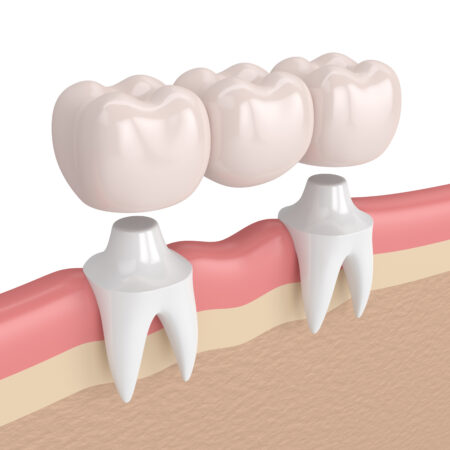 Your routine dental checkup and cleaning serve important purposes when it comes to keeping your smile safe and protected. Indeed, you may be taking every step you can take at home to provide an effective routine for your teeth, but no dental routine is complete without visiting our office at least once every six months to have a professional examine your smile thoroughly. In today's blog, your Overland Park, KS dentist takes a look at what issues you can encounter when rapid infection takes over, and how tooth loss can be addressed with the help of a bridge restoration.
Losing Multiple Structures
It goes without saying that the foundation of a healthy smile is an effective preventive dental routine. Indeed, at-home care should consider a number of different practices that can address the different components that make up your smile. Our team recommends a routine that includes brushing your teeth at least twice a day, flossing between meals, and using mouthwash.
Even if you are following a thorough routine such as the one listed previously, your checkup is essential to your health. This is because this visit allows a trained professional to examine your grin for signs of damage, infection, and more, as well as provide insight as to how you can have them treated.
It is also important to recognize that just because you have your preventive routine down, that does not mean you are completely safe from potential harm. In fact, it only takes falling short in your preventive routine one time for bacteria and other concerns to settle in, and before you know it, you are at risk for tooth loss. Fortunately, restorative treatment can help. For more information about this process, reach out to our team.
Streamlined Treatment
Restorative dentistry involves any treatment that aims to restore your oral health and function, and addressing tooth loss is a major point of concern. Indeed, depending on how many structures have fallen out, you might benefit from a single dental implant or a dental bridge restoration.
A dental bridge consists of two or more artificial crowns that have been bonded together and strategically placed to span the length of the gap. Contact our team today to learn more about the benefits of restorative bridges.
Lifelike Results
In addition to addressing your smile's function and completing your grin, a dental bridge can be created in such a manner so as to provide a near-seamless finish. Indeed, we use a material that closely resembles your natural teeth, and we can even shade-match the material to that of your natural smile.
Learn More Today
Contact Family First Dental in Overland Park, KS by calling 913-381-2600 to learn more about the need for dental restorations, and schedule your next appointment with our team today.