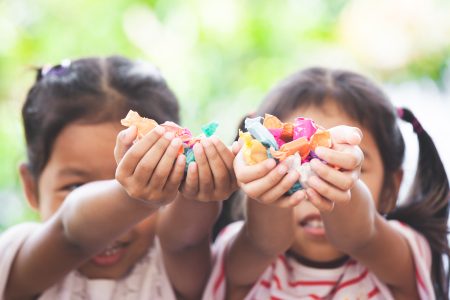 Your smile is constantly fending off the threats of a variety of concerns. Indeed, these include oral bacteria, tooth decay, gum infection, and so many more. As a matter of fact, there are more things that can harm your grin than can protect it, and as such, you must be on top of your oral care so as to ensure protection for life. With the holiday season just around the corner, this notion is even more true. In today's blog, your Overland Park, KS dentist warns against overconsumption of sugary candies and treats this Halloween season, and how you can take steps to better protect your smile's health.
Anticipating the Holidays
It goes without saying that the latter three months of the year are often many people's favorite. After all, the holidays of Halloween, Thanksgiving, Christmas, Hannukah, Kwanzaa, and more are all during this time of the year. What's more? There are so many fun-filled things to look forward to! These include getting time off from school and work, vacations, family gatherings, and of course, delicious food and treats.
To start the holiday season off, Halloween is a fan favorite for many children, as it allows them one night a year to dress up as anyone or be anything they want, all while receiving a basket full of tasty candy. Keep in mind, however, that too much of anything can be bad, and this concept is not foreign to candy consumption.
Indeed, candy can actually impact more than just your physical health, and you should pay extra attention to the ways it influences your oral health. To learn more about this process, give our office a call today.
Candy Leads to Decay
Tooth decay is among the most common oral health concern out there, affecting millions of people every year. What's more? Candy and other sugars can actually cause decay to develop and spread faster, as it is one of the preferred meals of oral bacteria.
Bacteria that lurk in the hard-to-reach areas of the mouth feed off of the food you consume, and when they feed off of sugar, it causes them to rapidly-produce a destructive acid that eats away at your protective enamel layer. This then leads to cavities, infects your tooth roots, and may even lead to tooth loss.
Additional Treatment to Seek
While it may be virtually impossible to eliminate sugar from everyone's diet, our team recommends practicing consumption in moderation. Further, once you do eat a piece of candy or sugar, take care to clean your teeth after the fact to eliminate traces of the sweet and prolong your smile's health.
Schedule an Appointment
To learn more about the need for sugar moderation and how we can help, contact Family First Dental in Overland Park, KS by calling 913-381-2600 and schedule your next appointment with our office.