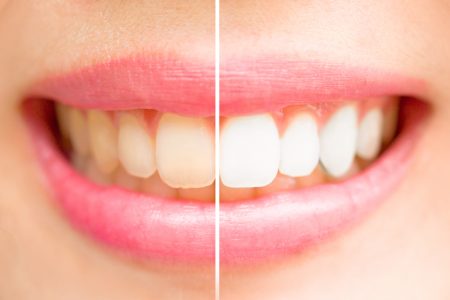 It goes without saying that taking proper care of your smile involves more than just brushing your teeth. As a matter of fact, it involves attending to all aspects that comprise your oral cavity so as to avoid major complications such as tooth decay and infection. Indeed, your oral health is of the utmost importance and a necessary factor to consider when treating your teeth. Though this is the case, however, that does not mean that cosmetic concerns should be completely avoided. In today's blog, your Overland Park, KS dentist explores what it means to endure a cosmetic blemish, and how our team can provide simple, conservative treatment to help.
Why it is Needed
By now you are likely aware that when it comes to your smile, nothing is more important than its health and function. After all, these components are necessary for practices such as biting, chewing, eating, and enunciating. Indeed, preventive dentistry helps us build up a strong defense against the many concerns our teeth face every single day, and with an effective routine, most patients are able to thrive with healthy and youthful smiles.
From dental decay and infection to tooth loss and everything else in-between, nearly everything impacts your grin in one way or another. In fact, even the types of foods and beverages you consume play a role. For example, foods such as berries and fruits contain high levels of acidity that can cause your natural layer of enamel to erode.
Another impact food has on your grin's appearance is causing it to become discolored and stained. Indeed, items such as berries, coffees, and teas contain staining pigments that can discolor your structures and cause noticeable stains to develop. For more information about this process, reach out to our team today.
What to Expect from the Process
Because so many factors, including age, can cause your smile to appear lackluster, most adults could benefit from cosmetic teeth-whitening to enhance their overall shine. Indeed, this process consists of applying a safe and strong gel to the surfaces of your structures, then activating this material with a special light. What's more? You will begin to see noticeable results of up to several shades brighter! Contact our office today to learn more.
Major Benefits
Many patients state that a youthful and vibrant grin is indicative of confidence in one's own skin, and our team agrees. There is no reason you should not love your smile and its appearance, and we are ready to help you achieve the appearance of your dreams with cosmetic teeth-whitening.
Schedule Your Visit
To learn more about the major benefits of cosmetic teeth-whitening and how our team can help, contact Family First Dental in Overland Park, KS by calling 913-381-2600 to schedule your next appointment with our office today.