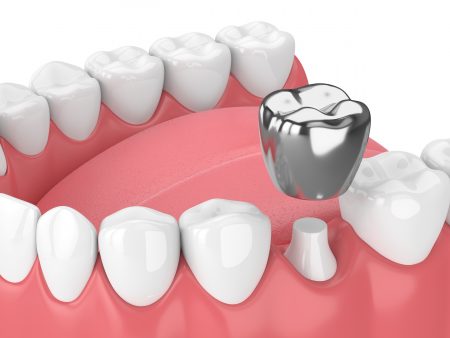 It is no surprise that there are more factors out there that can harm our smile than there are ones that can ensure its safety. After all, our grins endure significant wear over the years, and time itself even plays a factor. Because of this, restorative dental procedures play an integral part in your overall health, as sometimes preventive dentistry can only do so much. In today's blog, your Overland Park, KS dentist will take a look at the benefits of restorative dentistry, and specifically, how dental crowns offer versatility in preserving your natural teeth.
Encouraging Proper Recovery
One of the most used restorative procedures, dental crowns consist of a hollow cap that is placed over a tooth. It can be constructed from a number of strong materials, including metal or zirconia, and even dental porcelain if you are aiming for a more lifelike appearance.
One of the major benefits of custom caps includes their versatility to address or assist in a number of concerns, including the encouragement of proper healing. When you receive a root canal treatment, for instance, what has occurred is that your dentist carefully but thoroughly removes the infected dental pulp within a tooth and fills the open root canals with a dental material.
Because the inside of a structure is affected, a crown can be placed atop the operated tooth so that it may heal properly without threat from oral bacteria. For more information about this process, contact our team today.
Keeping Harmful Bacteria from Affecting Others
Another instance in which a cap can aid your smile is by preventing the spread of infection to surrounding teeth. As decay sets in, it begins as a small hole known as a cavity. This cavity can be treated with a dental filling if addressed early enough.
If not, the next best step your dentist may recommend is the removal of decaying portions of a tooth, then finishing off the structure with a crown. This not only helps prevent harmful bacteria from spreading to surrounding teeth and infecting them as well, but allows for our team to treat your concern without significantly altering your appearance. To learn more about this treatment option, reach out to our team today.
Protecting Your Natural Tooth
Dental crowns can serve a wide variety of purposes, but they typically all have one thing in common – properly preserving your natural teeth and, subsequently, your overall oral health. After all, the last thing your dentist wants is to remove a natural structure, and cap restorations can help us avoid that step while restoring your natural health.
Learn More Today
Contact Family First Dental in Overland Park, KS by calling 913-381-2600 to learn more about the importance of preserving your oral health, or to schedule an appointment with our team today.