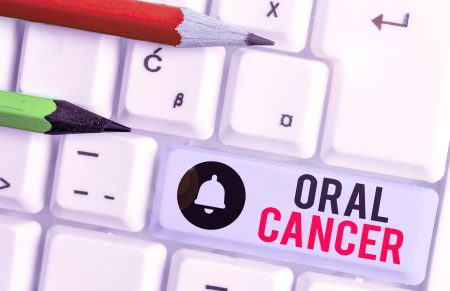 When you attend your dental appointment, usually it is to check in on your grin and ensure that it is happy and healthy. While concerns such as decay and infection are often the most common dental issues that an individual may face, they certainly are not the only ones. In fact, almost anything can be detrimental to your health, especially if proper steps are not taken to ensure its protection. In today's blog, your Overland Park, KS dentist will discuss the ways that less common concerns such as oral cancer impact your smile, as well as steps you can take to reduce your risk.
The Need for Oral Cancer Awareness
The month of April is dedicated to raising awareness for oral cancer, as it is a concern that could potentially impact everyone. Indeed, a common misconception is that it is only something to worry about if you use tobacco. In reality, however, it can impact anyone at any age, whether you are a young child, an elderly adult, or anyone in-between. Because of this, mouth cancer is not a topic to be taken lightly by any means.
Oral or mouth cancer occurs when the cells contained within oral tissues mutate, causing them to increase in size and multiply as opposed to dying as a healthy cell might. There is not a clear reason as to what causes this mutation to happen, but a few practices have been proven to exacerbate the process. For instance, excessive sun exposure to the lips, tobacco use, transmission of human papillomavirus (HPV), and excessive alcohol consumption all have been proven to increase the chances of its development. Contact our team to learn more about our treatment options.
Dangers and Pitfalls
When an individual experiences the onset of mouth cancer, he or she may also endure a number of signs and symptoms. These can include any combination of mouth pain, ear pain, loose teeth, growths or other bumpy abnormalities, difficulty swallowing or painful swallowing, a lip or mouth sore that will not heal, and a red or white rough patch within the mouth. If you are currently experiencing any number of these signs, please contact our team immediately to learn what your next best steps are.
A Simple Examination
Even though there is not a proven way to prevent the onset of oral cancer in its entirety, there are a few steps you could take to reduce your chances of getting it. One option includes asking our team about an oral cancer screening, which is typically provided during a routine checkup and cleaning. In addition to this, you can also take steps to reduce alcohol consumption, avoid excessive sun exposure, and cease the use of tobacco products.
Learn More Today
For more information or to schedule your appointment with our team, please contact Family First Dental in Overland Park, KS by calling 913-381-2600 today.