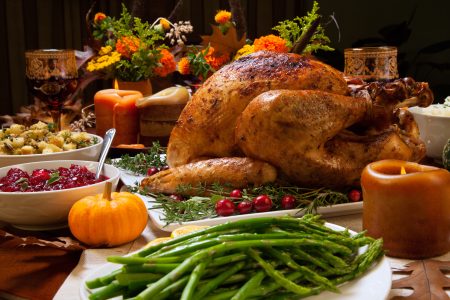 In just a few days, many of us will be planning and preparing for Thanksgiving. While we may be putting off a big gathering with friends and family, that doesn't mean we'll shy away from our starchy and sugary favorites. In today's blog, your Overland Park, KS, dentist will talk about what you can do keep your smile safe and enjoy your favorite dishes.
The Impact of Sugar and Starch
Sugar is often found in our everything from our cranberry sauce to our favorite holiday pies and cookies. Starch is a major component of everything from breads and stuffing to yams and mashed potatoes. What do these two ingredients have in common? Both tend to cling to our teeth and become trapped in between them, and both are popular choices for oral bacteria to break down. As part of this process, levels of oral acidity rise and the teeth become coated in a sticky layer of plaque, which hardens over time into tartar. The layer could weaken the outer enamel, and mean a greater risk of tooth decay!
A Smile-Healthy Approach to Mealtime
To enjoy these dishes without putting your smile in harm's way, we suggest practicing moderation and limiting how many you add to your plate. When you eat them, drink a glass of water too, which helps rinse away particles. Grabbing a few pieces of fresh carrots, broccoli, or apple slices could also help scrub your smile as you enjoy them. You may also consider excusing yourself once you've finished eating to floss thoroughly too!
Brushing and Flossing
Remember, even during the holidays you need to continue to practice good oral hygiene. Which means starting and ending your day by brushing your teeth for at least two minutes. A fluoride toothpaste helps too, as this strengthens the enamel coating your teeth. Flossing before bed is vital too, as this reaches and removes the particles caught between the teeth or along the gum line, which a toothbrush alone may not be able to remove.
Dental Cleanings
A dental cleaning is the only way to remove all plaque and tartar, so consider scheduling one now or just after Thanksgiving, before the holiday season becomes too hectic. Scheduling a visit means starting 2021 with a healthier smile, and also putting any remaining dental insurance benefits to good use before they expire.
COVID-19
To help protect your loved ones from COVID-19, be sure you avoid large indoor gatherings, wash your hands frequently, and when around people, wear a mask.
Do You Have Questions About Avoiding Cavities?
We want to make sure you enjoy your holiday, without putting your smile in danger! To learn more about reducing your overall cavity risks, then schedule your consultation by calling Family First Dental in Overland Park, KS, today at 913-381-2600.