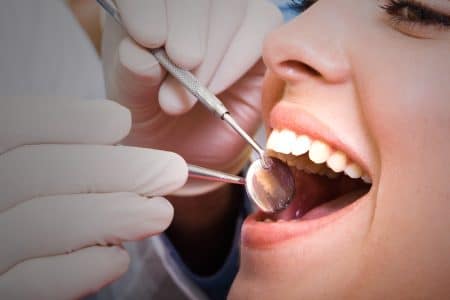 We hope to see you and your family for a checkup and cleaning at least once every six months. This may seem like a minor visit at best, but a checkup and cleaning is actually crucial for the health and beauty of your smile, combating serious concerns like cavities and even periodontal disease. In today's blog, your Overland Park, KS, dentist explains why you benefit from a preventive visit.
Appointments for People of All Ages
First, we want to see people of all ages. Did you know that the first appointments usually happen within six months of the first baby tooth's eruption? The sooner we begin regular visits, the sooner we can help kids gain a better understanding of their own oral health, and the importance of routine care. We also help teens and adults, as each stage of life brings unique challenges for maintain optimal oral health.
The Checkup
A checkup is a chance for the team to keep a close eye on your smile, watching for the earliest indicators of common problems like tooth decay, gingivitis, gum disease, TMJ disorder, and bruxism (teeth grinding). We also screen for oral cancer once a year for our adult patients! To make a diagnosis with accuracy and precision, we rely on more than just the naked eye. Our team also uses advanced imaging technologies, such as digital x-rays and intraoral cameras. These systems provide clear and detailed pictures instantly, so we can talk with you throughout the process and help you understand what we're seeing and what issues may require treatment. We then create a treatment plan to return your smile to optimal health and function, addressing problems in the early stages before you experience discomfort or other complications.
Removing Your Plaque Buildup
The visit is also a chance to clean your smile, a process that uses an ultrasonic scaling device and a manual tool to remove plaque and tartar from the surfaces of the teeth. Doing so not only helps freshen breath and brighten teeth, but also lowers the risk of issues like tooth decay and gum disease. We can also discuss better brushing and flossing at home, so you and your family know how to best care for your smile in between these routine visits. If you have any questions about how we clean and care for your smile, then please contact our team today.
Ready to Have Your Teeth Cleaned and Examined?
A visit every six months for an exam and cleaning helps improve oral health for kids, teens, and adults. To learn more about the benefits of these preventive visits, then schedule your consultation by calling Family First Dental in Overland Park, KS, today at 913-381-2600.