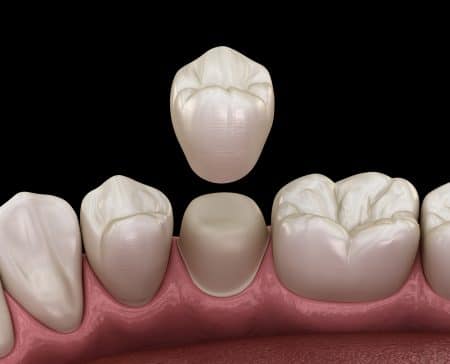 When a tooth is broken, or develops a serious case of decay or infection, then a filling or dental bonding may not be enough to restore your smile. Instead, we may suggest creating and placing a custom-made and lifelike dental crown! In today's blog, your Overland Park, KS, dentist can explain how we help fix broken teeth with dental crowns.
The Dental Crown
A dental crown is a durable restoration that covers the entire visible portion of a tooth. For that reason, they have the ability to provide an array of restorative repairs and cosmetic improvements for our patients. We create them from a variety of materials. For the front-facing teeth, we often select porcelain, as this is the most lifelike option available. We could also use zirconia or porcelain-fused-to-metal for the rear teeth, as these not only look natural, but can absorb greater bite forces and pressures. We take steps to tint them to blend with your smile when possible, so you enjoy a lifelike and beautiful restoration.
Repair Options
If a tooth is broken or cracked, even if the damage looks minor, it could still expose sensitive inner tissues to harmful bacteria, leading to complications like tooth decay and dental infection. By replacing the tooth, you prevent these issues and keep your smile stable. Along with repairing damage, we also lengthen the teeth worn down by teeth grinding, and can reshape malformed ones too. We've used crowns to aid in tooth replacement too, as they can be used to support a dental bridge, or even provide a lifelike restoration for an individual dental implant.
Creating and Placing Them
We start the process by removing structure from the tooth receiving one, and then taking detailed impressions and measurements. We use this information to create a restoration that not only fits comfortably and preserves your bite balance, but also looks great as well. When the restoration is ready, you return to the office so we can place it with a powerful bonding agent. With proper care and attention, they have the ability to last for decades to come!
To preserve your new restoration, and safeguard natural teeth too, be sure you see us every six months for a checkup and cleaning visit, so we can monitor your smile for signs of trouble and remove harmful plaque and tartar buildup. At home, you should also brush and floss daily! If you have any questions, then contact our team today.
Do You Have Questions About Restorative Dentistry?
We want to help you maintain optimal oral health, and a smile you can feel proud of. To learn more about repairing damaged teeth, then schedule your consultation by calling Family First Dental in Overland Park, KS, today at 913-381-2600.