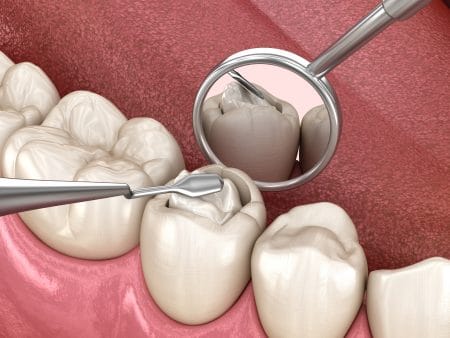 While at one time, all fillings wee made from metal materials, such as gold or amalgam, we know that the appearance of your smile matters. Which is why we provide composite resin dental fillings that we can tint to blend with the rest of your smile. In today's blog, your Overland Park, KS, dentist will look at how we create natural-looking dental fillings.
The Warning Signs of Tooth Decay
People with a cavity may report tooth sensitivity to hot and cold foods and drinks, which could become a persistent toothache with time. Since cavities grow in severity with time, the pain could increase as well, until the tooth develops an infection that could compromise its stability. A cavity is caused by enamel being damaged or worn away due to poor oral health or injury. If you attend routine checkups with our office every six months, then we can often diagnose a cavity in the earliest stages, addressing it before you experience tooth sensitivity and toothaches.
Crafting a Composite Resin Filling
If we examine your smile and find a cavity, we will likely address the issue in one visit with a dental restoration. We begin by removing decay from the tooth and then cleaning it thoroughly. Next, we prepare the composite resin we use to treat the tooth. The material is metal-free, and can be shaded to blend with your smile. The material is hypoallergenic, and safe for people of all ages. Not only will it blend with your smile, but it can provide years of restoration too. After we apply the material, we shape the tooth as we cure this material under a light. Then we polish the tooth for a more lifelike appearance, correcting your smile in only one visit.
Long-Term Protection for Your Smile
To help prevent further cavities, try to make time to brush when you wake up and again before bed, using a toothbrush with soft bristles and a toothpaste that contains fluoride. You should also floss every night before going to bed too! Try to cut back on sugary foods and drinks which feed harmful bacteria, and make time to see us every six months for a checkup and cleaning too. These simple actions help lower the risk of tooth decay and infection in smiles of all ages. If you have any questions about our lifelike dental restorations, then contact our team today.
Do You Have Questions About Cosmetic Restorations?
A filling helps prevent the onset of an infection or abscess, and ensures your smile continue to look bright and beautiful. To learn more about treating cavities with a natural-looking restoration, then schedule your consultation by calling Family First Dental in Overland Park, KS, today at 913-381-2600.