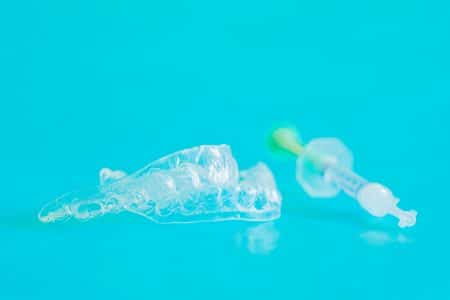 When you have minor or severe discoloration, you may feel embarrassed about your smile. However, many over-the-counter solutions could cause tooth sensitivity or may not address your stains. Fortunately, your Overland Park, KS, dentist provides professional teeth whitening to break up and remove discoloration from the surfaces of your teeth!
The Causes of Teeth Stains
Most form on the surface of the teeth and are referred to as extrinsic discoloration. They could be caused by tannins in certain beverages, such as soda, red wine, tea, and coffee. Foods high in sugar and starch could also lead to plaque buildup, which makes discoloration more visible. If you smoke cigarettes or use other tobacco products, this could leave embarrassing brown and yellow stains too. Poor oral hygiene, such as improper or infrequent brushing, flossing, checkups, or cleanings could also make discoloration more severe with time.
Removing Discoloration in Our Office
Our in-office procedure is a great choice for people who need results quickly, as the entire procedure only takes one visit to complete. We start by placing a protective coating on the lips and gums. We then place a bleaching gel onto the teeth. Using a light, we activate the bleaching gel to begin breaking up teeth stains. The process takes about one to two hours, and helps brighten teeth by multiple shades.
Brighter Smiles From Home
If you have more severe staining, or simply prefer to undergo treatment at home, then you may need our home-based option. The process starts with an initial office visit, in which we take detailed impression of the smile to create a set of plastic trays. We will send these trays, and a powerful bleaching gel, home with you. At home, you will fill the trays with gel and wear them for about 30 to 45 minutes a day on average. Optimal results usually take about one to two weeks to obtain, and could see teeth brightened by up to eight different shades. You then keep the trays and leftover gel for touch-ups once stains start re-appearing after several months. If you have any questions about our teeth whitening procedures, or about other methods of masking stains, such as dental bonding or porcelain veneers, then contact our team today. We want to help you enjoy your best possible smile, and that means keeping it bright and beautiful.
Do You Have Questions About Cosmetic Treatment?
Our team wants to help you feel proud of your smile, so we're ready to correct esthetic issues that impact smile brightness. To learn more about our various cosmetic treatment options, including whitening, veneers, and bonding and contouring, then schedule your consultation by calling Family First Dental in Overland Park, KS, today at 913-381-2600.