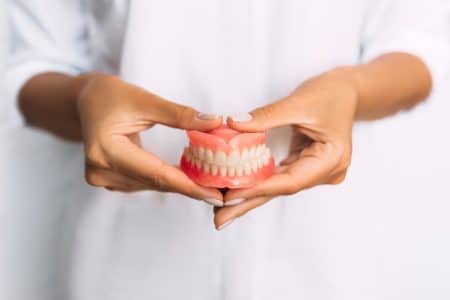 In our last blog, we explained how a partial addresses gaps spread out across the smile. But what if you've lost a majority of your smile, or every single tooth? In these cases, our team will design and craft a prosthetic to replace every lost tooth and return function, health, and beauty to your smile. In today's blog, your Overland Park, KS, dentist looks at how we offer a full smile.
The Health Problems Related to Total Tooth Loss
When we lose most, if not all, of our teeth, this leads to serious problems. First, the body will no longer supply doses of calcium and phosphorus to the jawbone around the missing teeth. The bone tissue begins to lose mass and density with time, causing an older appearance to develop. Being forced to rely on soft foods only deprives your body of nutrients, and yourself of many of your favorite meals. Trouble speaking could cause embarrassment and impact your social life too. Instead of letting your overall health and quality of life suffer, talk to our team about a possible solution.
Removable Dentures
The most common option, and the one you're likely familiar with, is the removable full denture. The prosthetic contains an acrylic base that mimics the appearance of gum tissue. A full row of teeth will be set into this base, and created from lifelike and durable materials. The prosthetic itself is held in place with suction, and some people may opt for a special adhesive as well. They need to be removed for soaking and cleaning, and on average, lasts about 5 to 10 years. As the jaw ridge changes shape due to the loss of mass and density, this means then fit changes and your prosthetic needs replacement every few years.
Implant Dentures
While a removable option provides a secure and lifelike option for tooth loss, one that returns function and appearance, an implant-secured option offers other benefits. For example, we secure them with dental implants inserted into your jawbone. Since the body accepts these implants as natural roots, the flow of nutrients resumes and the patient avoids the loss of mass and density in the jawbone. As a result, these fixed dentures last for decades to come, and never need to be removed for cleaning or soaking either. Again, we create them to look natural and fit comfortably, but they never slip when you eat or speak! If you have any questions about full dentures, then contact our team today to learn more.
Do You Have Questions About Our Custom-Made Complete Dentures?
We want to help people enjoy full and beautiful smiles with our custom-made and lifelike dental prosthetics. To learn more about addressing major causes of tooth loss, then schedule your consultation by calling Family First Dental in Overland Park, KS, today at 913-381-2600.