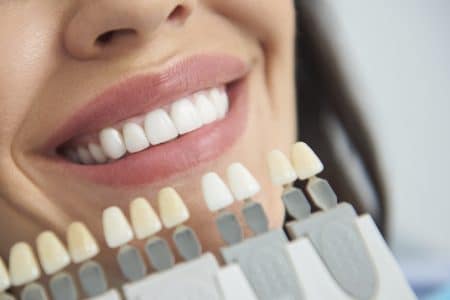 If you have stained teeth, you may wish your smile could be brighter. Instead of settling for store bought systems, which could cause tooth sensitivity and less-than-dramatic results, why not talk to your Overland Park, KS, dentist about professional teeth whitening? We have two very different options to help brighten smiles by multiple shades!
The Causes of Discoloration
A number of different factors could lead to stains on our teeth. For example, when we consume foods high in sugar and starch, this could promote plaque buildup, making discoloration more visible. Drinks with sugar and acids, like soda, energy drinks, and sports drinks, could do the same. Also, beverages with dark pigments such as tea, red wine, coffee, and yes, soda, could discolor your teeth. Smoking cigarettes and using other tobacco products will mar your smile, as will lack of proper oral hygiene. The treatments will recommend will depend on the cause and severity of your teeth stains.
In-Office Teeth Whitening
For results in as little as one to two hours, you may benefit for our in-office treatment option. We start by placing a protective covering on your lips and gums, before applying the powerful bleaching gel to the teeth. A special light then activates the gel and begins breaking up stains. A great choice if you need results quickly.
Our At-Home System
Our home-based option addresses more severe stains and could help reduce the risk of tooth sensitivity following treatment. We begin by taking detailed impressions of your smile in our office, and then using this information to create a set of plastic trays. You then return home with the trays, and a bleaching gel of course. At home, you will place the gel into the trays and wear them for between a hake hour and 45 minutes each day. These trays will help ensure an even whitening. After a week to ten days, you could see teeth several shades brighter. The left-over gel and trays can be used in the coming months for touch-ups as needed.
Better Home Habits
You can also avoid cigarettes and tobacco products, consume healthier snack options, like fresh fruit and veggies, and also brush and floss daily to limit the risk of plaque buildup. You also need to see our team for a cleaning every six months, which allows us to remove all plaque and polish the teeth, helping them stay bright. If you have any questions about teeth whitening and better oral hygiene, then please contact our team today to learn more.
Ready for a Brighter Smile with Teeth Whitening?
Our team can offer solutions to target and remove stains on the surfaces of our teeth. To learn more about our cosmetic treatment options, schedule your consultation by calling Family First Dental in Overland Park, KS, today at 913-381-2600.