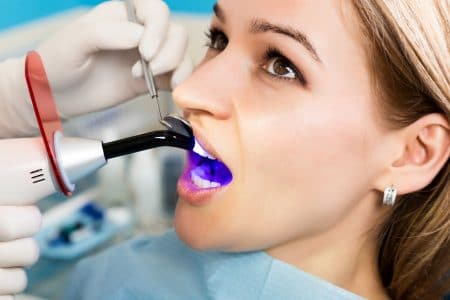 Teeth whitening isn't the only option available to help improve smile beauty. In fact, your Overland Park, KS, dentist offers two unique procedures designed to address multiple esthetic issues, including problems with a tooth's shape, in just one visit. When should you see our team for bonding and contouring?
Tooth Bonding
Cosmetic bonding allows our team to address a variety of esthetic issues, all using the same material we repair cavities with. A tooth-colored dental filling is created with composite resin, a unique blend of acrylic and glass particles that can be shaded to match the color of the tooth. We use the same material in our bonding procedure! After we remove any decay and clean the tooth, we prepare and place the material in several layers. The dentist then shapes and sculpts the tooth as we cure the composite resin under a special light. The final step is to polish your teeth.
The procedure helps repair minor damage, such as cracks and chips, and can also lengthens teeth that bruxism (grinding and clenching) has worn down. We mask severe discoloration that may not otherwise respond to teeth whitening, and also close embarrassing gaps between your teeth. Treatment has also allowed our team to correct misshapen teeth as well, all in one visit!
Contouring
Tooth contouring doesn't require the addition of special materials to the tooth. Instead, we actually sand and buff the outer structure to remove pits or grooves in the surfaces. We can also smooth rough patches and dull teeth that are sharp or pointed. If a tooth appears too large, or is misshapen, we can address these issues as well. In fact, we may contour the teeth in the same session as dental bonding!
Your Initial Consultation
How do you know if your smile will benefit from these options? Well, everything starts with an initial consultation. Our team will carefully examine your smile using advanced technology to gain an understanding of your current oral health. We also assess the severity of your cosmetic concerns, and will talk with you about your smile goals. From there, we can craft a personalized treatment plan to help address your oral health issues and cosmetic concerns, improving your smile's health and beauty, often in as little as one visit! If you have any further questions, or if you would simply like to schedule a consultation with our team, then contact our team today.
Ready to Schedule Your Cosmetic Consultation?
We would like to work with you and help you obtain a stunning new smile, maybe even in just one visit. To learn more about our cosmetic procedures, schedule your consultation by calling Family First Dental in Overland Park, KS, today at 913-381-2600.