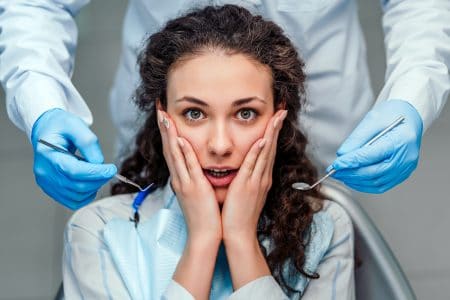 How do you feel about visiting the dentist? Many people avoid seeing us out of fear, or as a result of bad previous experiences. In fact, studies show between 8% and 15% of adults have some level of fear about visiting the dentist. We understand, and to help our patients with anxiety, your Overland Park, KS, dentist offers sedation dentistry.
Are You Nervous About Visiting the Dentist?
Sometimes people feel nervous because they've never been to the dentist, and this lack of experience causes anxiety. Others may have a poor prior experience at an office. However, when you don't see the dentist for years at a time, this allows minor problems, like plaque buildup, to lead to more serious issues, including tooth decay, gingivitis, and yes, even gum disease. To avoid major complications, such as tooth loss, you need routine care every six months. This way, we address issues in the early stages before they require more extensive and advanced treatments. If you feel nervous about a visit, or if you do require extensive care to get your smile back on track, then we can look at your medical history and help choose the best sedation option for you.
Nitrous Oxide
The most common form, and often referred to as laughing gas, this is administered through a mask over your nose. The gas helps you enter a calm and relaxed state, with little to no memory of the procedure afterward. We often use this for children and adults alike, and the effects wear off almost immediately, so you can return to work or school. You can even drive yourself!
Oral Sedation
For people with more severe anxiety, or undergoing more extensive treatments, such as extractions, then we may suggest oral sedation. We often recommend avoiding large meals in the six to eight hours before the procedure. When you arrive, you will take the calming agent in the form of a liquid or pill. You enter a deeper state of relaxation. When the procedure ends, you may feel a bit groggy, so you could require a friend or family member to bring you home. We can also combine this with nitrous oxide as well. If you have any questions about these treatment options, or about if you would like to schedule an appointment to undergo a routine checkup and cleaning, then please contact our team today to learn more. Now is a great time to finally improve the health and beauty of your smile!
Schedule Your Appointment Today
We always take steps to ensure our patients feel comfortable and relaxed when undergoing treatment. To learn more about treatment options, schedule your consultation by calling Family First Dental in Overland Park, KS, today at 913-381-2600.