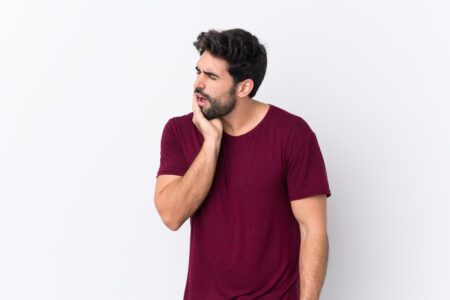 If you have problems with TMJ disorder, you can have a hard time avoiding the symptoms. Simply moving your jaw to bite, speak, or chew food can trigger discomfort and frustrate you due to feelings of stiffness in your jaw joints. You can also have headaches on a more frequent basis, trouble with neck and shoulder pain, and a tendency to grind or clench your teeth. At our Overland Park, KS dental practice, we are prepared to help patients who are struggling with this issue. By taking on the trouble with your jaw alignment and movement, we can provide relief from pain and help you move on from this frustrating problem!
TMJ Disorder Can Hurt Your Quality Of Life
When it is not being managed, TMJ disorder can become a serious issue, one that regularly interferes with your quality of life. Poor joint alignment and stress on your jaw muscles can create frequent problems with pain, inhibit your ability to comfortably bite and chew, and lead to more issues with headaches. This is an issue that is also linked to bruxism, a tendency to grind and clench your teeth. The sooner you do something about this matter, the sooner you can live without persistent pain and stiffness!
Reach Out To Your Dentist To Ask For Help With Your Jaw Pain And Stiffness
Jaw pain and stiffness can be difficult problems to live with, but troubles associated with TMJ disorder are something you can have addressed by your dentist. With an oral appliance prepared for your use, you can take on the trouble with your jaw and reduce stress while correcting an alignment imbalance. An oral appliance can also be useful when addressing problems with teeth grinding and clenching.
Addressing Oral Health Problems That Affect Your Bite Function
Problems with affect your ability to apply bite pressure evenly can be addressed through restorative dental work. If you have an untreated cavity, or if there is something wrong with a tooth's shape or size that makes your dental function uneven, we can help! A custom dental crown can lead to functional improvements, which means you will not have to work around a tooth that cannot offer the right support whenever you try to bite down.
Talk To Your Overland Park, KS Dentist About Treating TMJ Disorder
Taking action and discussing TMJ treatment with your dentist can lead to freedom from pain and stiffness in your jaw. It can also lead to relief from problems with headaches, teeth grinding, and more! If you would like to learn more about how we can address this problem, or if there is any other oral health issue that you would like to discuss, contact Family First Dental in Overland Park, KS by calling 913-381-2600 to schedule your next appointment.