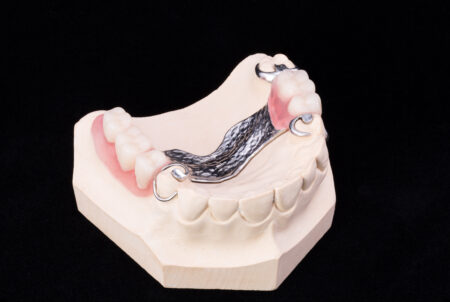 For very minor cases of tooth loss, we can provide treatment with a dental bridge, restoring the smile. But if you have more complicated cases, in which you have several gaps in the smile, then you may need a partial denture. In today's blog, your Overland Park, KS, dentist discusses when you need a partial denture.
Complicated Cases of Tooth Loss
Losing one to three teeth in a row is cause for a dental bridge, losing most or all of the teeth will require a complete denture. But what if you have several gaps and they're spread out across the arch of your smile? In these situations, we will use a partial denture. This is designed to address complicated cases of tooth loss, and placement could help limit complications like misalignment, jaw joint strain (which cause TMJ disorder and bruxism), or trouble eating and speaking with ease. When you suffer from tooth loss, even if time has elapsed since losing them, please let us know so we can help!
Designing a Dental Prosthetic
To begin the design process, we will gather detailed digital x-rays and intraoral camera images, so we can assess the state of your tooth loss and also identify the underlying factors. We may need to treat these to ensure the success of your new teeth. We then use the images and measurements we crafted to design the process in a dental lab setting. Each one is custom-made to ensure a comfortable fit and a lifelike appearance, so you can smile, eat, and laugh with confidence.
The Partial
A partial denture will contain an acrylic base that looks like gum tissue. Inserted into the base will be your new teeth. Crafted from ceramic, these will be able to support daily bite forces and pressure, and can be shaded to blend with the rest of your smile. This provides a more lifelike appearance! Metal clasps will be present, and we use these to connect the prosthetic to the remaining natural teeth. This ensues a stable tooth replacement.
You will then need to remove and soak the prosthetic occasionally, and the denture will need to be replaced every five to ten years on average, as the jaw ridge will change shape with time. If you have any questions about how we address missing teeth, or about the process of preventing tooth loss, then contact our team today. We want you to smile withy confidence again!
Ready for a Full Smile Again?
Contact Family First Dental in Overland Park, KS by calling 913-381-2600 to schedule your next appointment with our team and find out how we can replace multiple missing teeth and rebuild your smile. A custom and lifelike prosthetic is available to help you smile without hesitation!