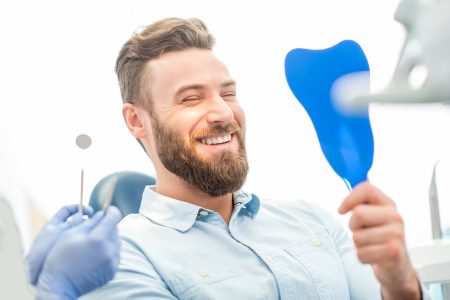 Although your oral health is without a doubt the most important factor to consider when taking care of your smile, that does not mean that other factors such as appearance should be completely ignored. As a matter of fact, many people have voiced their dissatisfaction with their oral appearance, and others have even expressed how much of an impact this phenomenon has on confidence. Because of this, it is important to consider treatment that help you feel good in your grin. In today's blog, your Overland Park, KS dentist explores the benefits of cosmetic dentistry, and how it can address surface-level concerns in a seamless, lifelike manner.
Tackling Deep-Set Stains
From the moment you are born and well into your adult life, your smile is under constant scrutiny. Indeed, it is essential to functional tasks such as biting, eating, and chewing, and there is a myriad of factors that are constantly influencing its strength. What's more? Inconsistent care or falling short in one area or another can be the straw that breaks the camel's back when it comes to developing major complications down the line.
Even practices you might not expect to have influence on your teeth do, including consuming a morning cup of coffee before work every day. You see, the beverage is efficient in restoring levels of energy, however, it contains pigments that actively stain and darken your teeth. While this may not seem to matter at first, it won't be long before you begin to feel uncomfortable sporting your own grin due to difficult stains.
In cases such as these, you could benefit from cosmetic treatment such as professional teeth-whitening. For more information about this process, contact our team today.
Addressing Cracks and Chips
Another common concern that many patients endure at some point or another involves noticeable surface-level cracks and chips. You see, nothing can protect your grin from a random physical accident, and most of the time, the situation cannot be anticipated. As a result, a chip or crack may form.
While they may not influence your health, they certainly can take away from your overall smile quality. What's more? A crack or chip can cause your grin to appear uneven or misaligned. Fortunately, bonding and contouring can help. Reach out to our team to learn more about this process and what your options may be.
A Variety of Concerns at Once
In instances where your smile is riddled with a variety of surface-level concerns, your best bet may involve dental veneers. Porcelain veneers consist of ultra-thin shells that are bonded to the surfaces of your teeth, thus providing a lifelike finish.
Learn More Today
To learn more about your cosmetic dental options or to schedule your appointment with our team, contact Family First Dental in Overland Park, KS by calling 913-381-2600 today.