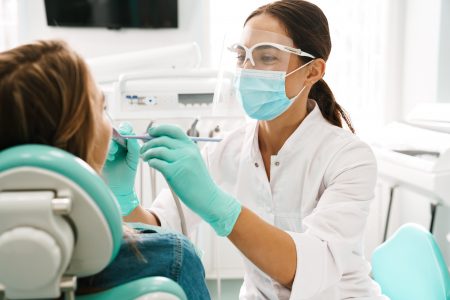 Your smile's health is affected by a variety of factors. From surface-level stains to dangerous infection and everything else in-between, there is virtually nothing that doesn't impact your grin in a negative manner. Because of this, your dentist recommends you practice a well-rounded preventive dental routine, but what exactly does that mean for you? In today's blog, your Overland Park, KS dentist takes a look at what takes place during your six-month checkup, and how checkups are a necessary part of your preventive care.
A Well-Rounded Routine
It goes without saying that dentistry in and of itself covers a variety of situations. For instance, cosmetic dentistry addresses surface-level concerns, while restorative procedures typically handle major infections or damage after they have occurred, taking care to restore a natural structure. Preventive dentistry, on the other hand, is the primary focal point of a healthy and sturdy smile.
Preventive dentistry consists of all practices that prioritize fending off dangerous threats and strengthening your pearly whites. In fact, when asked about the concept, many individuals will say that brushing their teeth is preventive care, and they are correct. Indeed, brushing helps to remove the harmful deposits of bacteria-laden plaque that develop on your teeth as the day goes on. In fact, this is why your dentist encourages you to brush at least twice a day!
While brushing is an important step, keep in mind that it is not the only thing you can do to keep your grin healthy. Indeed, practices such as paying attention to what you eat can have a major impact, and attending routine dental appointments is more necessary than you might think.
Identifying Various Concerns
Although taking a trip to the dentist's office may seem unnecessary at times, it actually serves a number of major purposes. Indeed, your dental checkup provides a professional lens through which to identify any concerns. In other words, it is an excellent way to stay on top of your health by being able to prevent minor concerns from developing into major ones.
When you come in for your examination, we will take care to check your teeth, tongue, cheeks, gums, lips, and throat for any signs of damage, infection, or trauma. To learn more about this process, reach out to our team today.
Mitigating Chances of Infection
Another important function of your routine checkups includes professional cleaning. You see, plaque can work its way into the hard-to-clean areas of the mouth. Here, it exists relatively unharmed and can calcify without proper treatment.
A dental cleaning allows our team to carefully but thoroughly remove these deposits, then polish the teeth so that future attachment will be more difficult.
Schedule Your Appointment
Contact Family First Dental in Overland Park, KS by calling 913-381-2600 to learn more about the importance of your checkup, and schedule your visit with our team today.