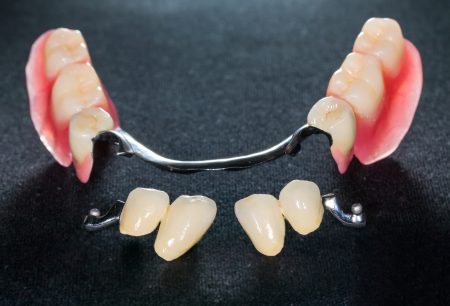 In last week's blog, our team discussed the different ways we can address tooth decay as it progresses, from a dental filling to a root canal and finally resulting in extraction. While removing a compromised structure is certainly a priority once it progresses past the point of saving, keep in mind that even bigger problems may arise if you do not replace that missing tooth. In today's blog, your Overland Park, KS dentist will look at the ways we can restore your smile with prosthetic dentistry as decay continues to spread.
A Few Adjacent Teeth
We mentioned last week that decay begins with the spread of harmful oral bacteria wreaking havoc on your oral structures. These bacteria that cause your structure's demise, however, may not necessarily go away once a tooth has been extracted. In fact, they tend to lurk in the warm, moist areas of the mouth, which make the gums an ideal home. In other words, they can remain and cause trouble for your adjacent structures, potentially resulting in even more loss. While a single dental implant can easily address a single gap, what happens when you lose multiple? Fortunately, that is where our team comes in to help!
Multiple missing adjacent teeth do not have to be addressed with multiple individual posts, and can in fact be managed with a custom porcelain bridge. This restoration consists of two or more crowns secured together to bridge the gap in your smile, offering a lifelike appearance without extensive invasive measures. For more information about this process, contact our team today.
Multiple Structures Throughout
Sometimes loss can result in what is known as a checkerboard smile – i.e., one that contains multiple gaps throughout, not necessarily adjacent to one another. Some instances warrant the need to extract multiple, and this may be the cause. Fortunately, a partial denture can be created and placed to address this concern. If you have any questions about this process, feel free to call our office.
A Brand-New Smile
Finally, when all teeth must be removed or are lost, you may feel all hope is gone. Afterall, how can you eat, bite, chew, or even enunciate without them? Fortunately, our team can help place implant-secured dentures, known as an All-On-4 approach. During this process, your dentist will strategically place four implant posts into the jaw to most accurately secure your custom denture in place. What's more, this process results in a reestablished bite, as the implant posts can once again support the pressure. Not only this, but recovery time is reduced greatly as well!
Schedule Your Appointment
Contact Family First Dental in Overland Park, KS by calling 913-381-2600 to learn more about your prosthetic options and restoring your grin today.