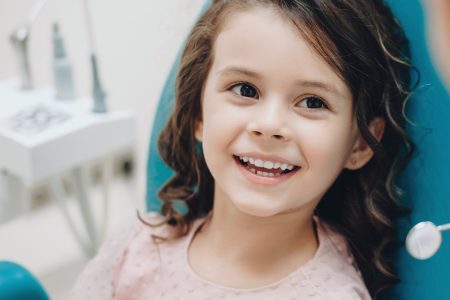 As 2020 is coming to a close and the new year is upon us, it is important to keep your family's dental health in mind with a final checkup or cleaning to finish out this year strong. IN fact, staying on top of your little one's tooth development is crucial, as children need just as much, if not more, assistance for ensuring a lifelong smile. In today's blog, your Overland Park, KS dentist at Family First Dental will go into detail about what takes place during your child's exam and look at ways to encourage excellent dental care from home.
Keeping an Eye on Development
Just like adults need routine dental care to complement their excellent habits at home, children need routine maintenance and assistance to ensure the development of a healthy smile. We encourage our younger patients to begin visiting the office at the time of their first birthday or the development of their first tooth in order to ensure a healthy development. During the first visit, we will not begin regular cleaning or similar treatment, but instead will just assess development and begin introducing your son or daughter to the dentist office to familiarize them with the environment.
For those over the age of three, we will begin routine checkups and cleanings, and establish a schedule of attending these appointments at least once every six months. Your dentist will discuss best options for any dental concern that develops such as a cavity, or a treatment to give their grins an extra boost, such as a sealant or fluoride treatment. To learn more about the process, contact our team today.
Emphasizing Excellent Practices at Home
In addition to the importance of attending regularly scheduled appointments, we want to encourage our younger patients to actively participate in excellent preventive care at home as well. This means getting your little one excited about oral hygiene and encouraging daily brushing flossing, as well as keeping an eye on their sugar consumption to avoid decay or other threats. The earlier children get excited about their oral health and establish a consistent preventive routine, the better chances of obtaining a beautiful, youthful smile.
Extra Protection for a Lifelong Grin
In some circumstances, younger teeth can benefit from an added boost of strength to protect against harmful bacteria. For this, your dentist may recommend the use of a dental sealant or fluoride treatment. A sealant is a liquid material that is painted onto the surfaces of the back molars in order to protect the small nooks and crannies that harmful bacteria like to nest in. You may also seek a fluoride treatment to help reinforce the enamel on tiny smiles and provide an added boost against harmful acids.
Schedule Your Child's Visit
Taking care of tiny grins begins early, and the sooner excellent habits are established, the better. Contact Family First Dental in Overland Park, KS by calling 913-381-2600 to learn more or schedule your family visit today.