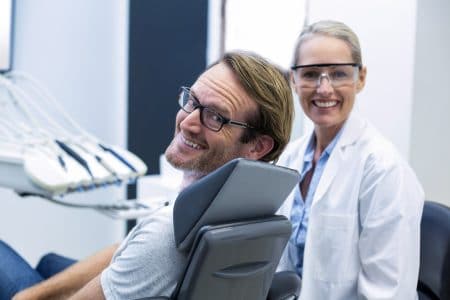 How can you make sure your smile stays in good condition over the next year? One important step – and one that too many people fail to take – is to set up routine dental exams. Unless your circumstances dictate a different approach, you should plan to see your dentist two times a year. At each appointment, you will be provided with a professional cleaning service, which will help you protect your smile from future cavities. Your dentist will also spend time with you at each visit, and will review your smile for any possible issues that need to be addressed.
Why Patients Should Plan To See Their Dentists For Regular Care
Patients who undergo regular dental care have better information about their oral health. If you have something wrong, you can look forward to receiving restorative dental care before your condition grows more serious. For example, tooth decay can be caught while it only affects your enamel, and you can address it before you require a root canal treatment. Of course, when you go in for these appointments, you are also receiving preventive care that lowers the chances you will have problems develop.
Addressing Problems That Develop Between Visits
If you think something might be wrong with your oral health, you should not feel like you need to wait until your next scheduled visit. A sensitive or sore tooth might be experiencing internal troubles that need to be addressed – if you wait too long, an infection can cause irreversible harm! A problem like bruxism, without prompt treatment, can lead to persistent discomfort, and even serious dental damage.
Talk To Family First Dental About Arranging Preventive Dental Exams For 2018
Have you made sure to schedule your dental care for the next year? Arranging ongoing preventive dental care at Family First Dental can help you make sure you enjoy 2018 with a healthy, attractive smile! Our office can provide important preventive services, but we also provide restorative care, and cosmetic work! To schedule a consultation and examination at our office, call Family First Dental in Overland Park, KS, today at 913-381-2600. Our staff is committed to helping patients enjoy superior oral care during every visit.