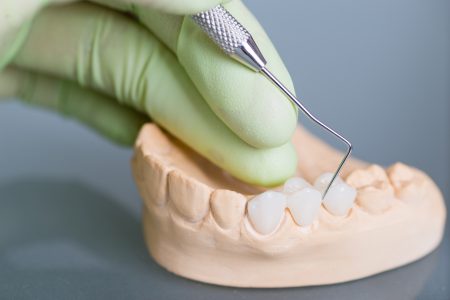 When it comes to your oral health, the last thing that you or your dentist want is for you to lose a tooth. Indeed, preserving your natural structures is a top priority, as once they are gone, they cannot come back. What's more, functional difficulties arise from the loss of teeth, including the ability to bite, chew, eat, and enunciate. In today's blog, your Overland Park, KS dentist will take a look at the increasing benefits of prosthetic dentistry in restoring your function, as well as our ability to bring your treatment to you with our mobile clinic.
The Need for a Crown
Sometimes one or several teeth could benefit from added protection, and that is just what dental crowns can provide. This form of restorative dentistry offers versatility in the ability to address a variety of concerns, including the containment of infection and preventing the spread to surround teeth, and even to protect structures while they heal from a prior procedure. Indeed, crowns can serve a variety of purposes, but it can be difficult to make it into our office to receive such treatment. Fortunately, we can help!
Our team has become aware of the increased need for accessible dental care – especially in the wake of the COVID-19 pandemic – as a number of factors contribute to one's ability to reach our office. For that reason, we offer Family First 2 U mobile care to bring expert care to people wherever they may be. What's more, our mobile clinic is complete with resources and equipment to perform a number of treatments. For more information or to schedule your appointment with our team, reach out to our office today.
Bridging the Gap Between Structures
Another treatment that our mobile clinic can bring to you is the ability to address tooth loss in varying degrees. Indeed, whether you are missing one tooth or several adjacent ones, our team has the resources to provide the same quality care you expect in-office, right to your door! To learn more about dental bridges and our mobile clinic, contact our team today.
Dentures to Complete Your Smile
Just as we are able to address minimal structural loss on the road, we can address complete loss as well! Indeed, we utilize an excellent staff and advanced equipment in order to provide the custom care you need, even if that means placing highly lifelike dental prostheses such as partial or full sets of dentures. At family first, we prioritize your smile and your comfort, and we want to help you to the best of our ability.
Schedule Your Next Visit
For more information about the treatment plans we offer through our mobile clinic, contact Family First Dental in Overland Park, KS by calling 913-381-2600 to schedule your appointment with our team today.