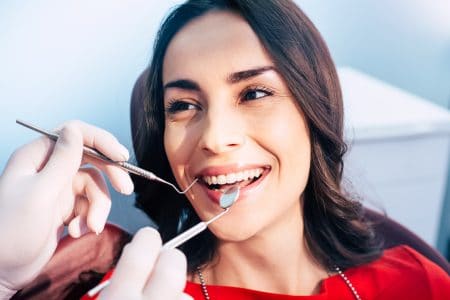 When it comes to fitting in necessary appointments and errands into your hectic everyday schedule, more often than not a number of items don't make the cut. Indeed, it can be stressful trying to balance everything while also staying on top of items such as your oral health and prevent the need for extraction or other extensive treatment. While paying mind to brush and floss daily is a great way to start the day off right, it will take a bit more than that to ensure your grin's proper health. In today's blog, your Overland Park, KS dentist will address the need for routine preventive care – including in-office visits – and how our team can make that process easier by bringing your visit to you!
In-Depth Treatment
To provide the best results and service when it comes to your oral health, quality is truly key. From the moment you come in for your checkup to the second it is complete, we believe the same professional-level quality should be achieved every step of the way. We begin by taking routine x-rays to assess any changes that may have occurred since the last time you visited our office. From here, we will provide a thorough examination to get a better idea of the situation, paying mind to examine all structures and tissues for signs of decay, infection, trauma, and more. In fact, our exams consist of more than just a cavity hunt, and instead check for any sign of abnormality or damage that may have occurred. After this, we provide a thorough but gentle cleaning to remove deposits of harmful oral bacteria in the form of plaque or tartar buildup, then we finish by polishing your teeth and smoothing their surfaces to prevent easy reattachment.
Same Quality Checkup
While a dental cleaning and exam is a pretty straight-forward process, in practice, however, a number of concerns can arise that may bar any individual from making it to the office in the first place, and that is where the trouble starts. As a team, our practice recognizes this concern and decided to shift our efforts toward assisting our community as best we can, which is how we came to the conclusion for a need for a mobile clinic! Our mobile clinic has the ability to provide the same quality checkup that we provide in-office right to your door. Whether you are having problems finding someone to watch the kids, do not have a way to arrive at our office, or more, our team can help you! For more information, contact our office today.
A More Convenient Solution
As busy adults and parents ourselves, we recognize that a number of circumstances can prevent you from making it to your appointment. Because of this, we want to do everything we can to bring your appointment to you! Contact Family First Dental in Overland Park, KS by calling 913-381-2600 to schedule an appointment with our mobile clinic today.