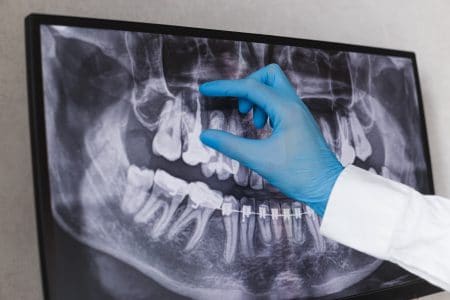 To help you enjoy a healthy and bright smile in 2021, we want to offer a thorough checkup and cleaning. To ensure we diagnose any oral health issues with accuracy and precision, we employ advanced technology, including cone beam technology! In today's blog, your Overland Park, KS, dentist talks about diagnosing your oral health with advanced technology.
When We Need Exams
We suggest an exam and cleaning at least once every six months for kids and adults alike. These visits are crucial for protecting smiles from serious oral health issues, including tooth decay, dental infections, gingivitis, and gum disease. The sooner we identify these issues, the sooner we administer treatment and help you avoid painful complications, including the potential loss of one or more natural teeth!
Cone Beam and Digital X-Ray Technology
A major benefit of an exam is a chance to diagnose problems in the earliest stages, often before you experience uncomfortable symptoms. To obtain detailed images of your smile, we will use cone beam and digital x-ray technology. We then examine the teeth, gums, roots, and oral structures with precision and accuracy, using less radiation. The image will be available instantly chairside, so we can walk you through the diagnostic process and answer any questions you may have.
Cleanings
We also perform a dental cleaning in the same visit. These cleanings benefit people of all ages, removing the plaque and tartar buildup that brushing and flossing alone cannot. Using an ultrasonic scaling device and a manual tool, our team will remove all plaque and tartar before polishing the smile thoroughly. We not only lower the risk of gingivitis and gum disease, but help prevent tooth decay, bad breath, and even unsightly teeth stains.
Treatment Plans
After your exam and cleaning, we will create a treatment plan that works with your schedule and your budget to correct any issues we uncovered. Often, we can even treat issues in a single visit! Our treatments include lifelike dental fillings, custom-made crowns, and even tooth replacement options like bridges and dental implants. We would love to make 2021 the year you enjoy optimal oral health, with a smile you can't wait to show off when you spend time with friends and family. If you have any questions about our checkups and cleanings, or about any of our general, cosmetic, or restorative treatment options, then contact our team today.
Schedule Your Next Visit Today
We want to help you avoid the onset of common oral health issues with a preventive approach to dental care. Contact Family First Dental in Overland Park, KS by calling 913-381-2600 to learn more or schedule the first exam of the new year. Let's enjoy our best possible smiles!